Discover the delicious flavors of Scotland's whisky regions

Every region of Scotland is dotted with whisky distilleries, from the Lowlands near the English border to the famed Speyside, to the remote Highlands and the far-flung Islands. Further, every distillery produces whisky uniquely flavored by its local environment, which means there is a whisky to delight every palate. Hike with us over Scotland's hills and dales to discover its most complex, rich, and sophisticated whiskies.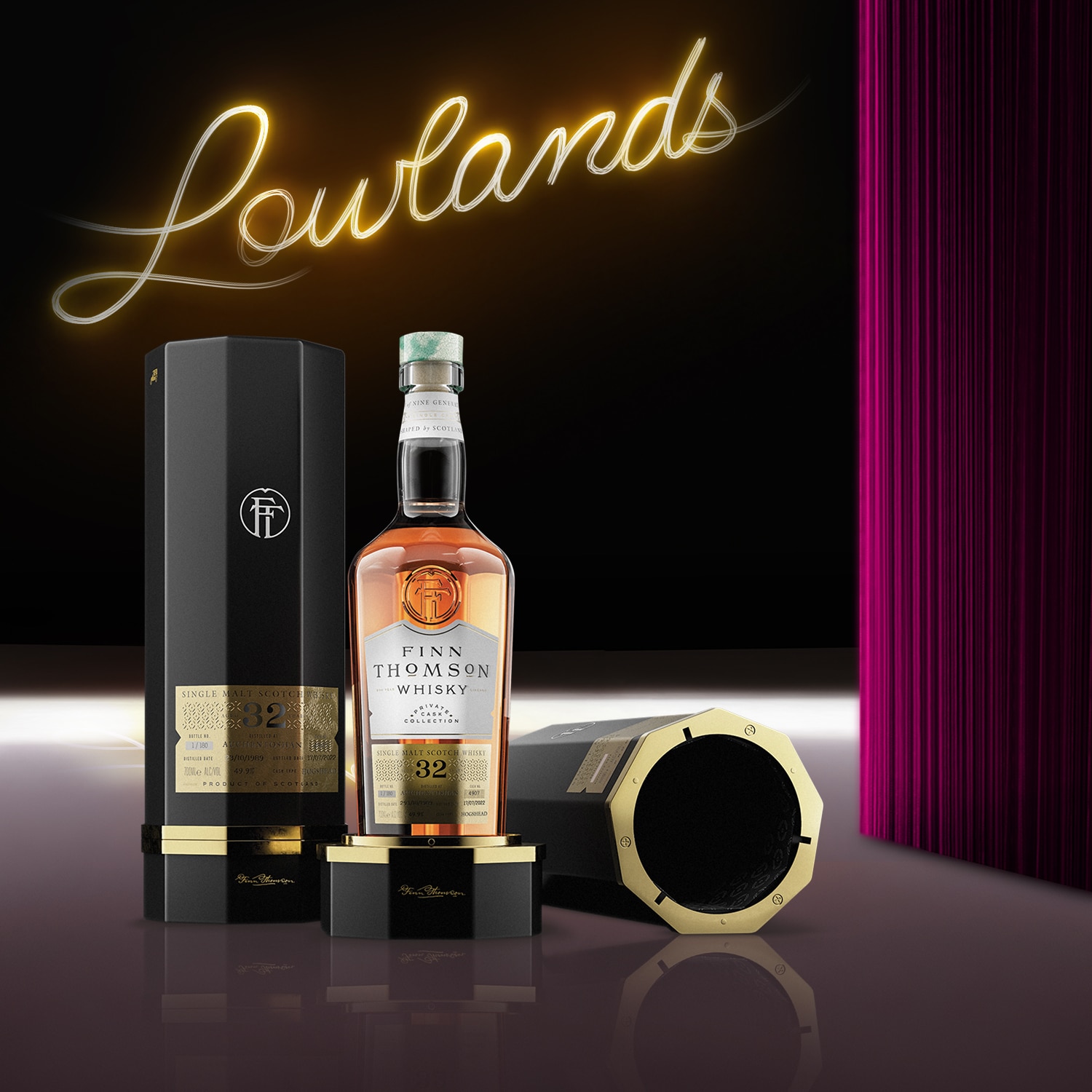 LOWLANDS

The Lowlands region covers the south of Scotland up to the north of Glasgow and Edinburgh. Being inland, this region tends to produce whiskies that are light and gentle, with no peatiness. One of the best examples of the Lowlands style is the Auchentoshan 32 Year Old. Here, the zesty fruitiness typical of a younger Auchentoshan is enhanced by earthy, nutty notes that have developed over 32 years of aging in a single hogshead. Fun fact: Auchentoshan is the only distillery in Scotland that uses triple distillation for all their whiskies for an ultra-smooth mouthfeel and more complexity.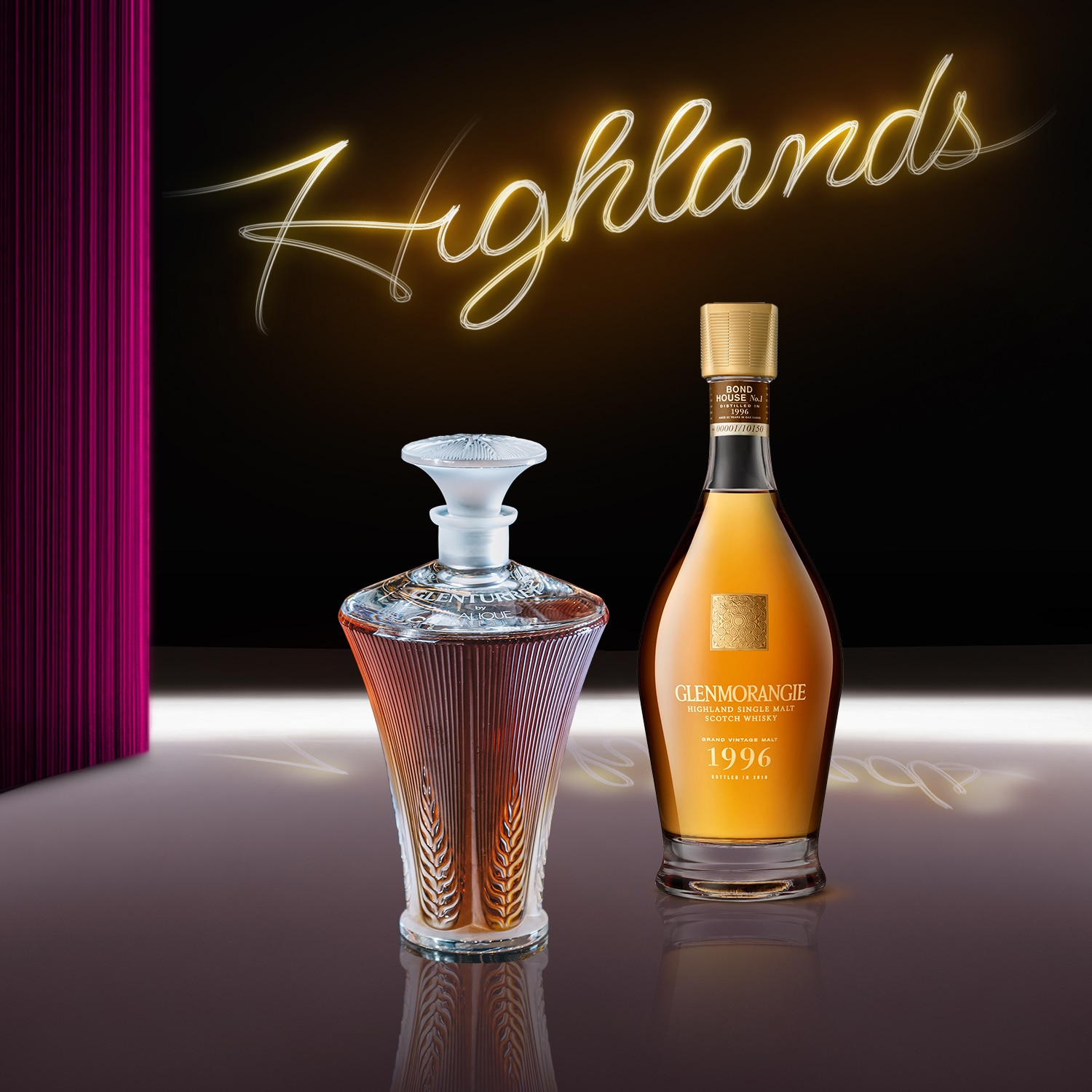 HIGHLANDS

The Highlands is Scotland's largest whisky-producing region, covering everywhere north of Glasgow, excluding Speyside. The varied environments of the Highlands are reflected in the vastly different flavors of its whiskies. Distilleries in the north offer sweet, rich whiskies, such as those by Glenmorangie. A stunning example is Glenmorangie's Grand Vintage 1996. A smooth and creamy single malt matured in bespoke casks for 23 years before being bottled in 2019, it has sweet, fruity aromas followed by notes of citrus, vanilla fudge, ginger, and oak spice.

Whiskies in the south of the Highlands are typically lighter and fruitier, such as those from Glenturret. Founded in 1763 and one of Scotland's oldest working distilleries, Glenturret has recently celebrated its heritage with a limited release of The Glenturret Trinity: 320 Lalique crystal decanters containing its 33 Years Old single malt. This artistic collaboration between The Glenturret and Lalique is an extraordinary series celebrating The Glenturret's three touchstones of Provenance, Prowess and Passion.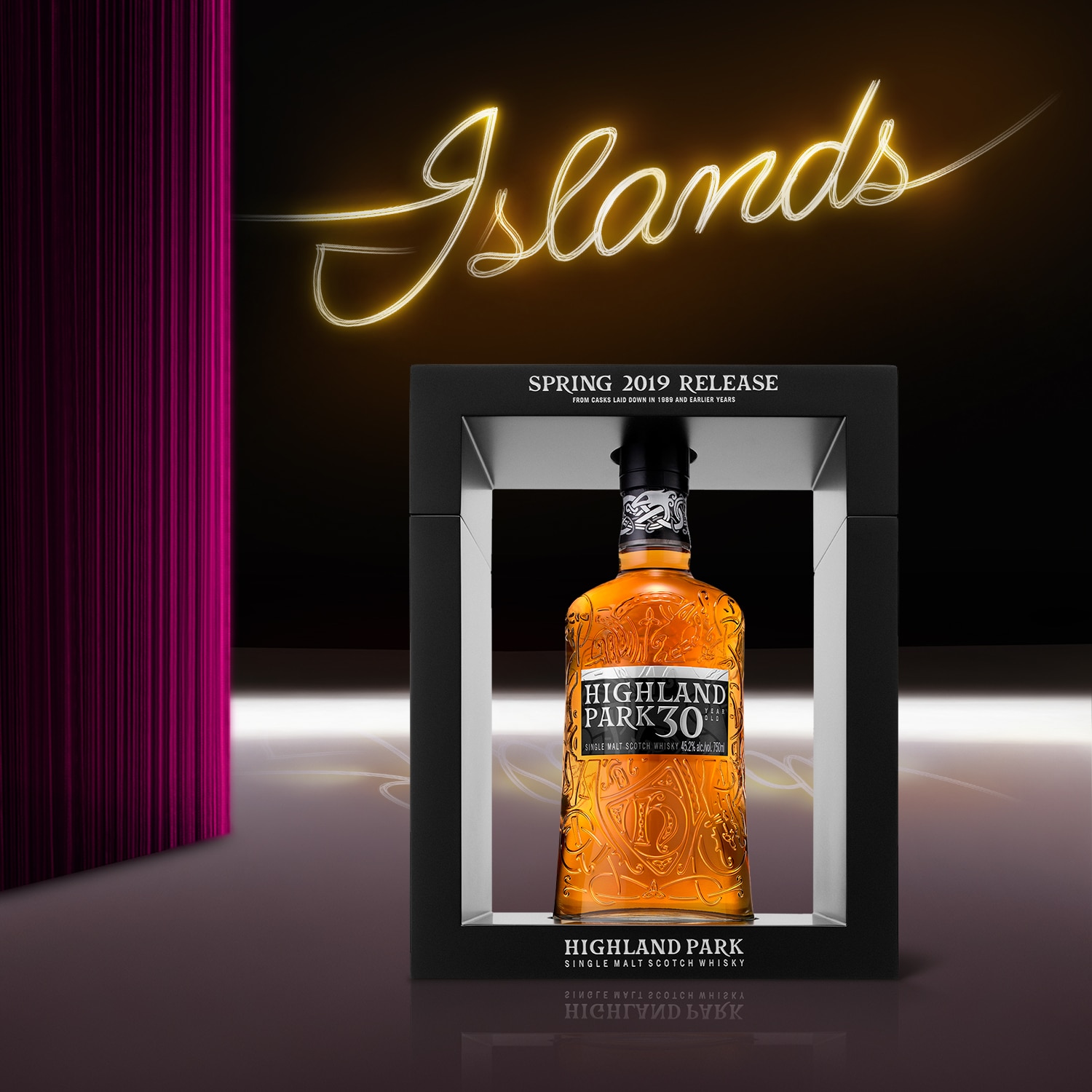 ISLANDS

There are nearly 800 islands of the west coast of Scotland, but only a few are inhabited, and even fewer have their own distillery. Due to the proximity of the sea, strong tones of peat and salinity are found in all Island whiskies. Highland Park, located on the island of Orkney, is one of northernmost distilleries. Its Highland Park 30 Year Old is a wonderful bottle of Island flavors, with its layers of sweet vanilla and hints of dark chocolate and spices from the sherry-seasoned casks, rounded off with an impression of aromatic peat smoke, from peat cut right near the distillery itself.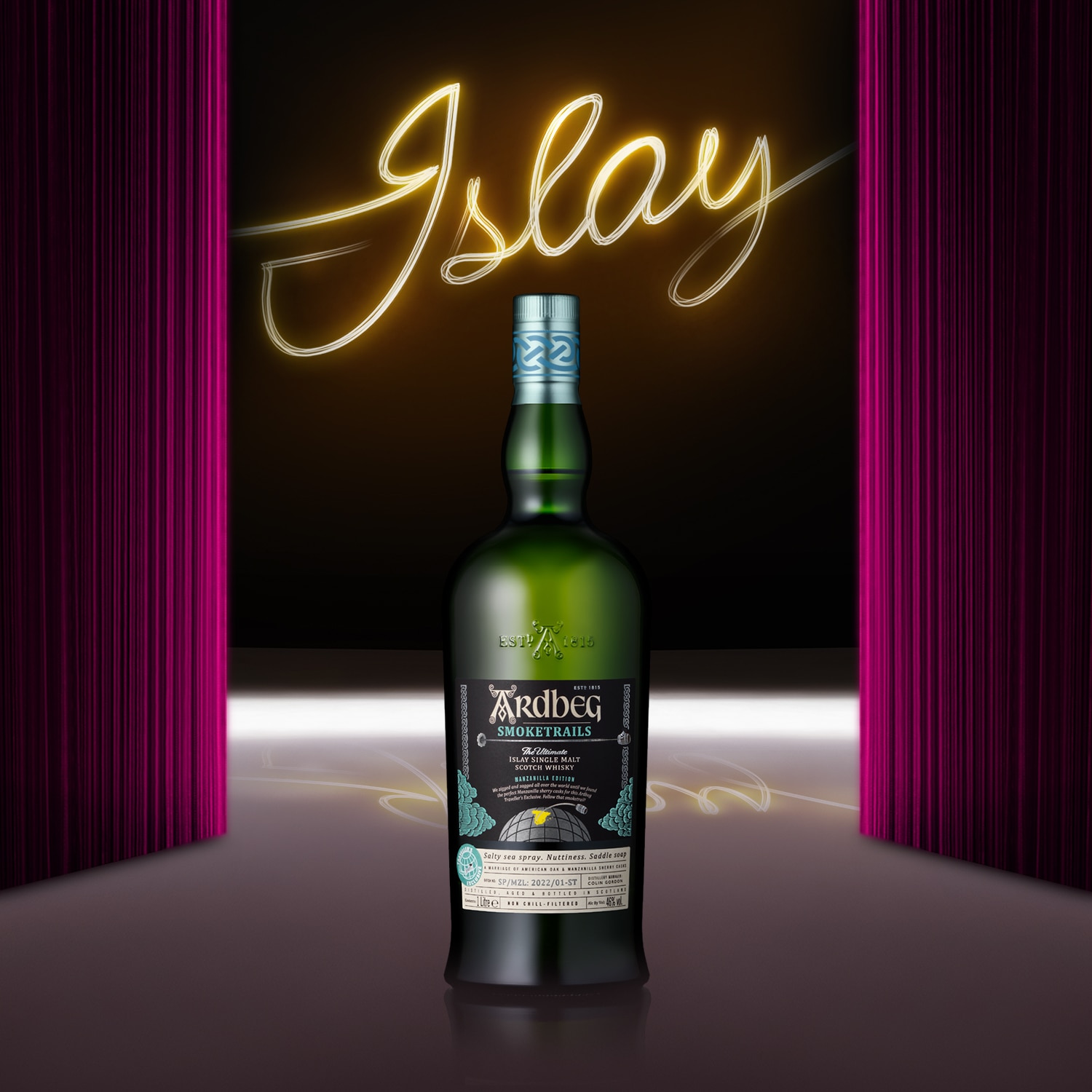 ISLAY

One island constitutes its very own Scotch whisky region: Islay, located off the west coast at the border of the Highlands. Even though Islay is the smallest region by land mass, it is home to eight distilleries. Ardberg , founded in 1815, is renowned for having the peatiest, smokiest, and most complex of all the Islay malts. Despite the intense smokiness, Ardbeg whiskies are also renowned for having a delicious sweetness, a phenomenon known as "the peaty paradox". The distillery has also won numerous Whisky of the Year awards. Now they have released Ardbeg Smoketrails, a highly collectible series of limited-edition whiskies only available in travel retail or from the distillery itself.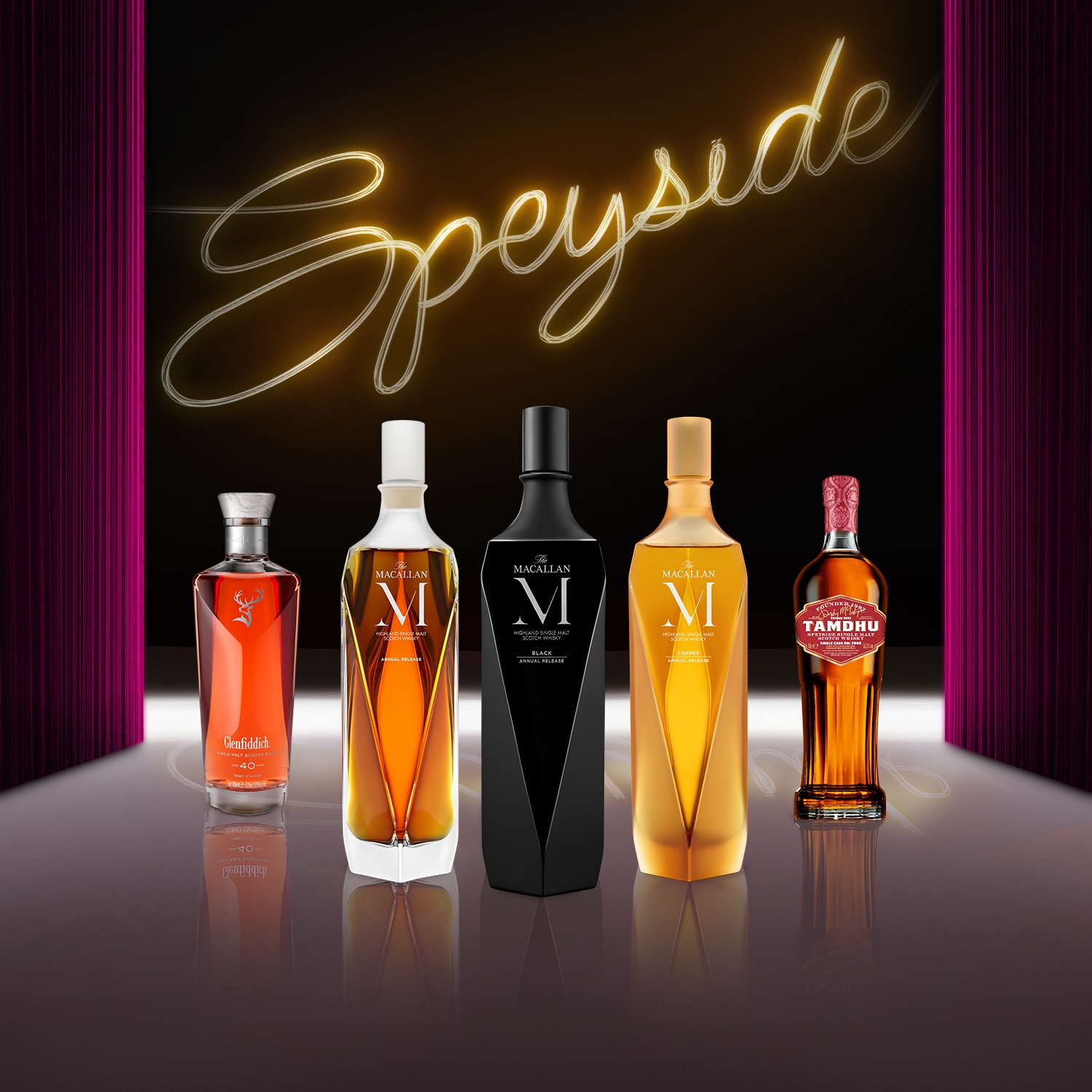 SPEYSIDE

This region is located in the northeast of Scotland, around the River Spey (hence its name), and has the highest number of distilleries in any region in Scotland. Speyside is famous for sweet single malts with either very little or no peat, which make them ideal for people who are just starting on their single malt journey. Try the delicious Glenfiddich Time Series 40, made by one of Scotland's largest distilleries. This aged single malt has a dark mahogany color with layered tastes of dried fruits, dark chocolate, and ripe black cherries.

Another famous distillery is The Macallan, renowned for their special releases and varied styles. It has recently released M Copper, a new addition to The Macallan M Collection which celebrates the brand's Six Pillars of whisky creation. A vibrant expression with 100% natural color of spun gold, this single malt whisky has unique flavors of pear, white peach and sweet malt, and a buttery, viscous mouthfeel with a finish of toasted oak.

Lastly, there are whiskies from smaller, but no less special, distilleries such as Tamdhu. Its Distillery Manager's Single Cask 2003 has been matured in an American Oak Oloroso-seasoned cask from the cooperages of Jerez in Spain's "Sherry Triangle." After a full 15 years in the cask, the result is a complex, rich single malt whisky with notes of raspberries and clotted cream, a creamy, softly spicy palate and long, fruity finish.