Trending sunglasses that fashionistas are raving about

Sunglasses are one of those statement accessories that can elevate any look and take it from stylish to iconic. They're also a fashion staple that can use an annual "stocktake" to keep your look on trend! Scroll down to find DFS' edit of the hottest sunglasses trends from the runways and get ready to throw on some shades.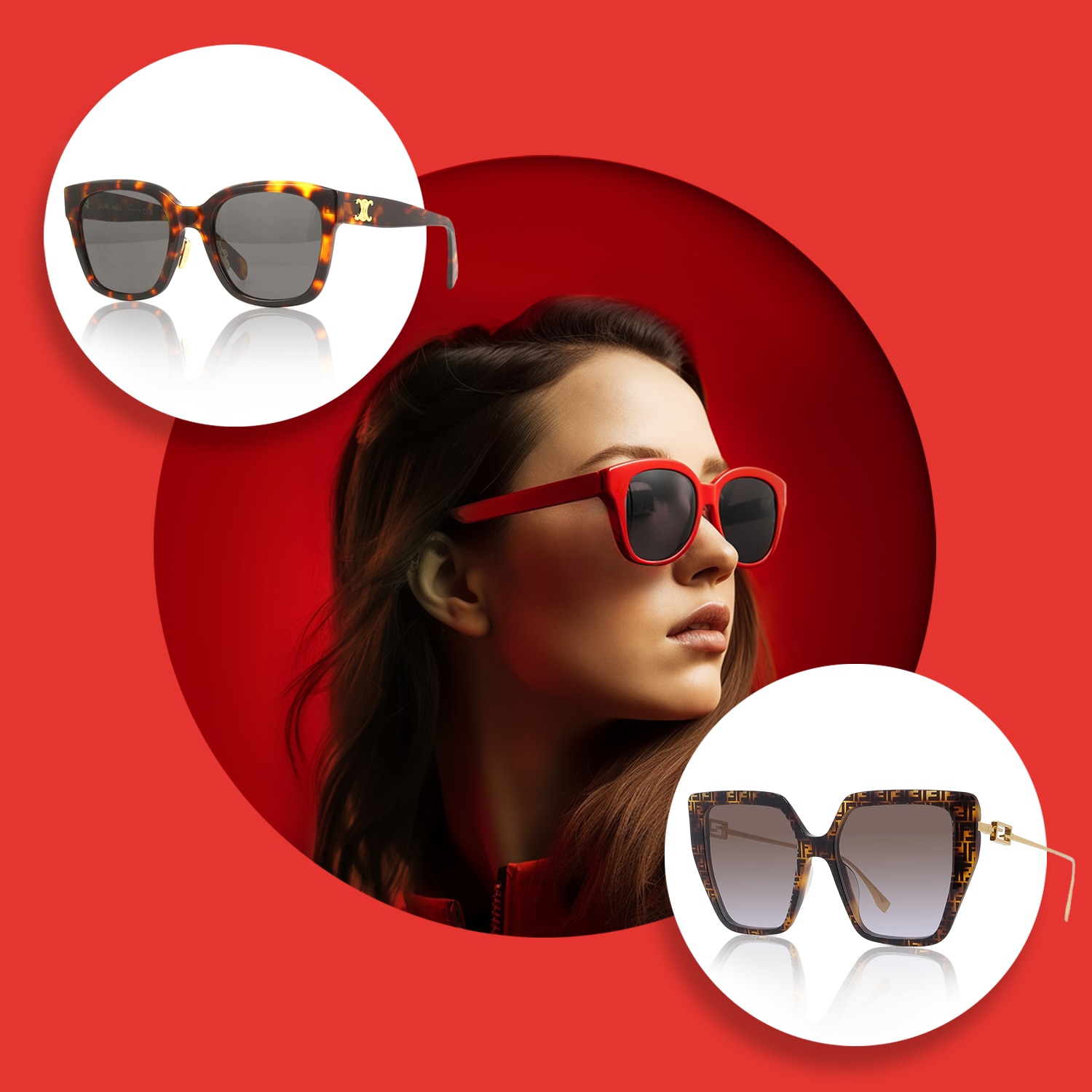 GEOMETRIC FRAMES RULE

Geometric shapes such as squares and rectangles are always a classic and this year especially so, as fashion takes a step back from the Y2K craze in favor of styles that are more time-honored. Bold, square frames featured heavily in various SS23 collections. Particularly flattering to oval and round face shapes, these strong, angular sunglasses put a new spin on an ageless style.

CELINE's Triomphe 09 Sunglasses are a play on the retro-vintage style. The acetate frame exudes an air of effortless chic and is adorned with the brand's unmistakable Triomphe signature that shines with pure French glamor, while the gradient smoke lenses protect your eyes from the sun.

Another pair of timeless square-shaped, Havana brown sunnies—this one is the Baguette from Fendi. Here, the boxy style takes on a more feminine silhouette, with gold metal temples adorned with the elegant FF Baguette motif. The blue and gradient brown two-tone lenses add a subtle detail that makes these sunglasses inimitable.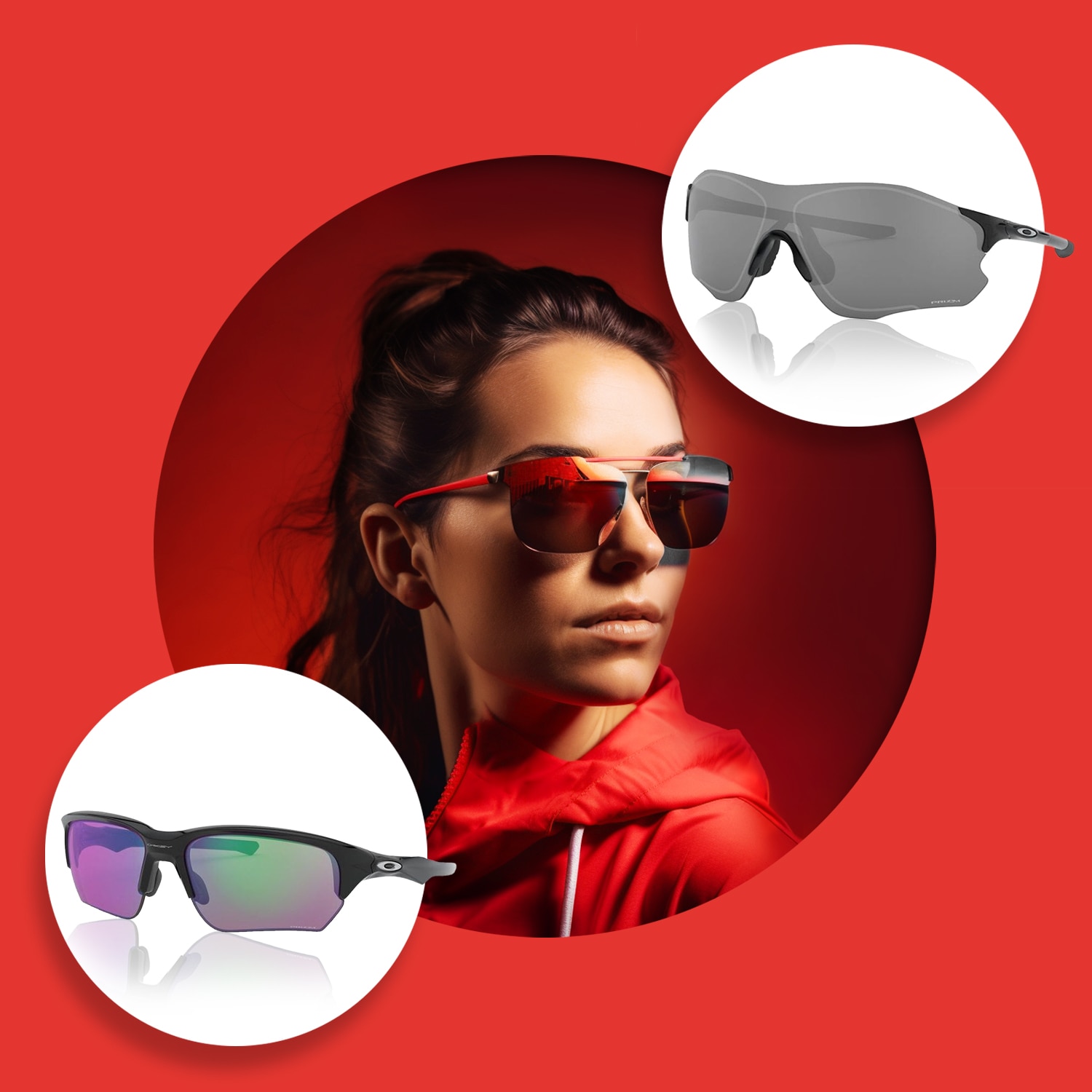 OFF-PISTE GLAMOR

Sports luxe is a trend that's still going strong. This season, eyewear styles are joining in with design elements such as large-framed goggles, futuristic looking materials and tinted lenses. You might think that athletic sunglasses should only be worn when playing sports, but if we take them out of their "habitats", they can become bonafide statement pieces in their own right! Traditional sport sunglasses brands like Oakley are branching out with designs that feature a mix of sports performance and lifestyle elements, so you can take the same pair from the field to the street.

Oakley's EVZero™ Path® is built for exercising, training, and beyond. They have all the perks of a pair of sports sunglasses, being durable, lightweight and anti-glare, but the rimless design also gives them an undeniably fashionable and visionary touch. Pair them with an oversized all-white outfit and witness the head-turning effect you'll create.

Another cool style with interchangeable lenses is Flak® Beta, also from Oakley. Tinted lenses are all the rage this year, and this versatile design allows you to switch easily between colors to match your look. And unlike normal tinted glasses, these technical sunglasses will completely filter out UVA/UVB rays, and even blue light up to 400 nm. No need to choose between function and fashion—with this pair, you can have it all.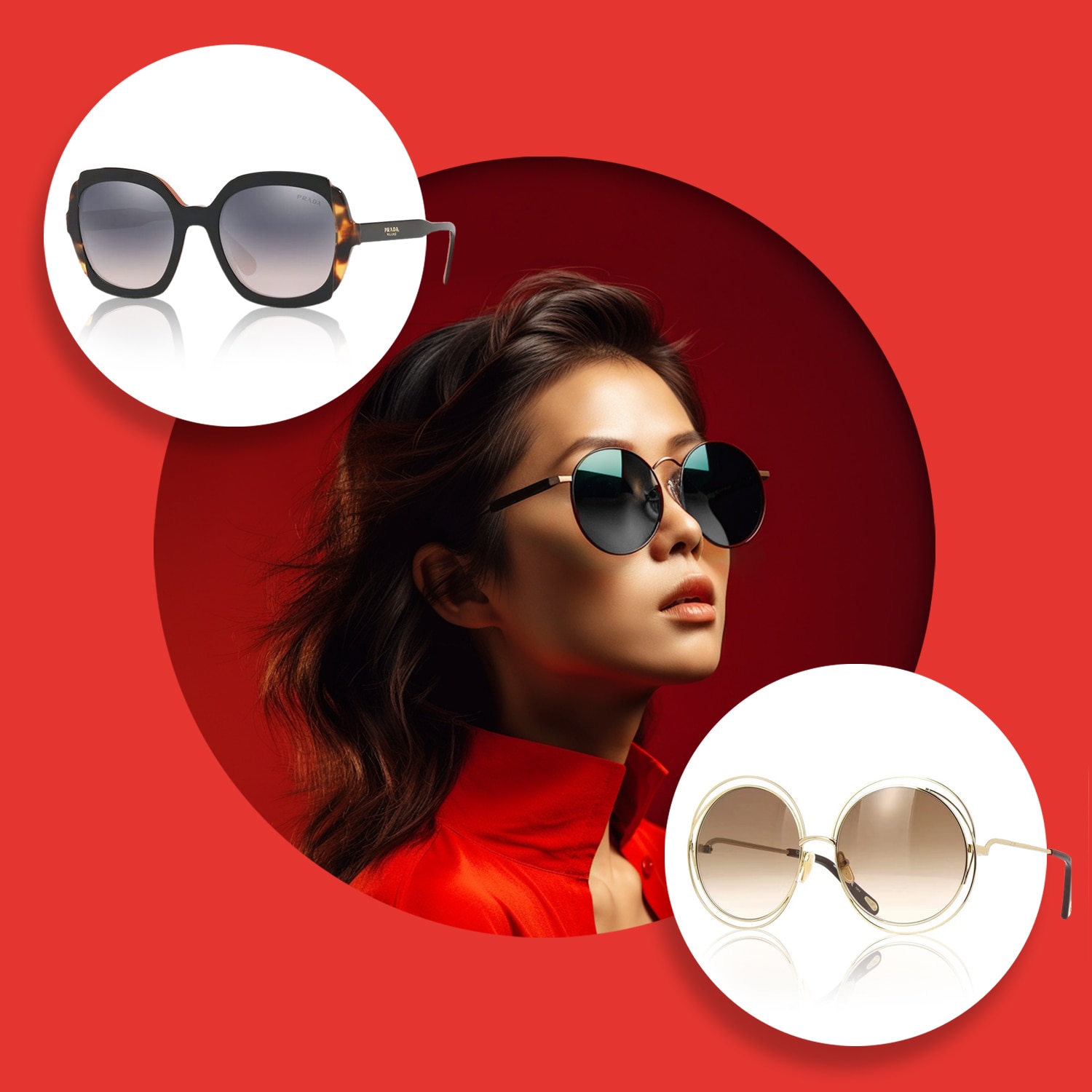 THE BIGGER THE MERRIER

Nothing delivers a more striking effect than wearing a pair of oversized shades—the wardrobe staple of all fashion icons! Their larger-than-life design evokes 70s glam, where Jackie O made her mark on fashion history with her inexhaustible collection of spectacular sunglasses. Glamor aside, large frames are also functional as they provide better protection against the sun than smaller frames. Also, as they cover more of your face, they are great for wearing on no-makeup days!

Prada's Etiquette Sunglasses epitomize the brand's signature blend of art and fashion. The round, oversized design with its tortoise-shell frame manages to be both iconic and arresting, while gradient lenses add a hint of shadowed mystery.

Another dramatic pair of specs comes from Chloé: The Carlina Petite. Unlike what the name implies, these sunglasses are not petite at all, and in fact their round frame is ideal for those who are seeking an oversized look. The free-wheeling spirals of fine gold metal give fluidity to the silhouette, while the beige-tinted lenses complement its retro attitude.


ENTER DFS CIRCLE TODAY
Discover unique experiences, new products and exclusive offers – all personalized to your lifestyle, preferences and tastes.
Access WeChat Mini Program
Follow us on WeChat, scan the QR code using the in-app camera to access the DFS CIRCLE Mini Program now. Download WeChat by clicking on the button below.
Complete your member registration now and start earning points for your purchases today.