All the best picks for short trips
While we'd all love a long trip to Macau, sometimes you can only squeeze in a quick overnight visit or a day trip. Fear not, however, as we've crafted three definitive itineraries to make the very best of your time, no matter your area of interest.
The best bit? You can cherry pick and combine any of these elements into your own unique itinerary, letting you do Macau entirely your way.
THE FOOD ODYSSEY
Whether you're a local or a visitor, Macau is a foodie's paradise with few rivals, letting you indulge your tastebuds in everything from humble street snacks to Michelin-starred fine dining.
7:30 a.m. We suggest you start the day with breakfast the Cantonese way, enjoying dim sum at Lung Wa Tea House. At this most traditional of spots, climbing the stairs is like walking back in time. Don't miss their siu mai steamed pork dumplings, meatballs and the "phoenix feet" — in other words, chicken feet — if you're feeling adventurous.
11 a.m. Everyone needs a quick mid-morning snack, and Hon Kee Café's peanut butter toast is rightly famous, especially paired with coffee hand-frothed by the owner in front of you. It's worth the trip to quaint, quiet Coloane.
1 p.m. Time for some Portuguese classics at António in Taipa Village, home to home-style but refined dishes in charming surroundings. The seafood stew is great, but we never fail to order the Portuguese duck rice and their spicy African chicken.
4:30 p.m. Afternoon tea is a great invention, because it means eating cake! Amid dozens of choices, we love the St. Regis Bar Macao for its elegant presentation, cool surrounds, and mouth-watering patisserie.
8:30 p.m. Dinner, and this final food stop in a busy and hungry day comes at Jade Dragon in City of Dreams. Dress up in style to enjoy three Michelin-starred Chinese cuisine in breathtaking surroundings. For carnivores, the prime rib with chili is a masterpiece.
ADRENALINE RUSH AT MACAU TOWER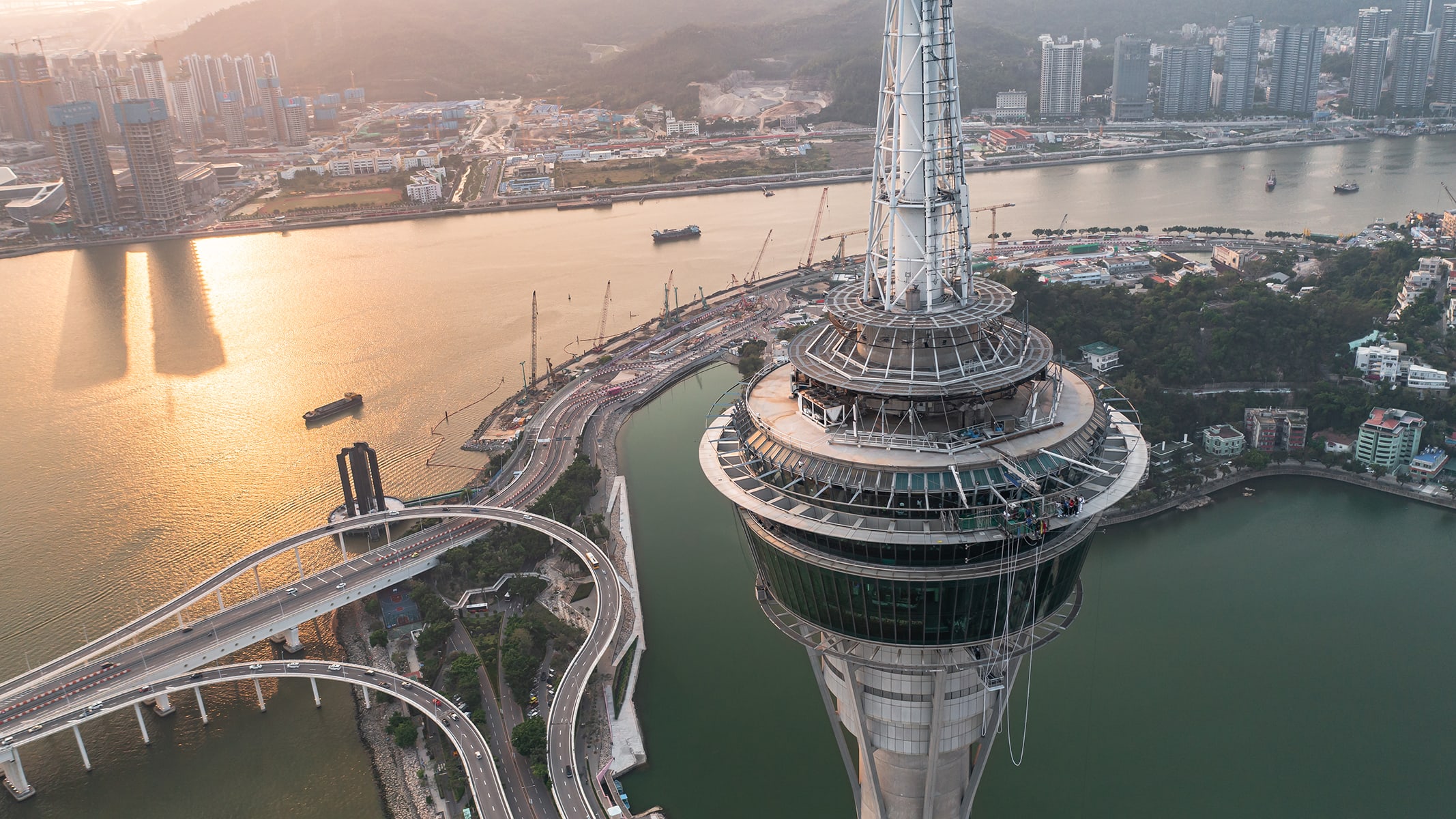 Macau's tallest structure Macau Tower offers a raft of activities for the thrill seeker in all of us, including bungy jumping and a tower climb. But there are few experiences in all of Asia that come close to the gut-wrenching rush of the Macau Skywalk. True adrenaline junkies need look no further than the 765-foot-high vista, which looks down on Macau, the Pearl River Delta and far beyond, even to the skyscrapers of Hong Kong.
10 a.m. No matter how you summon up the courage, you'll need nerves of steel to take the ultimate walk on the wild side. Why? Because you stand on top of the tower and stroll outside with no handrail or barrier in sight. The walkway is barely six feet wide — and it's a long way down. But if you've got a real head for heights, then clip on the harness and feel free to sit and dangle your legs — or even "fly" off the edge if you are a serious player!
1 p.m. Macau Tower also boasts entertainment and movies, dining and shopping, making it the perfect day out for all the family. Dining options include cuisines from around the globe, so there's sure to be something to please everyone.
4 p.m. Suitably fortified by lunch, your next adventure awaits. Maybe a tandem Skyjump where you're attached to a cable like a movie stuntman? Or for real heroes, a bungy jump all the way down AJ Hackett-style, making you part of the Guinness World Record for the world's highest bungy jump from a commercial building! Night jumps are also available.
6:30 p.m. Finish the day with drinks and stellar views from the observation deck as you reflect on an adrenaline rush like few others!
MACAU'S UNMISSABLE SIGHTS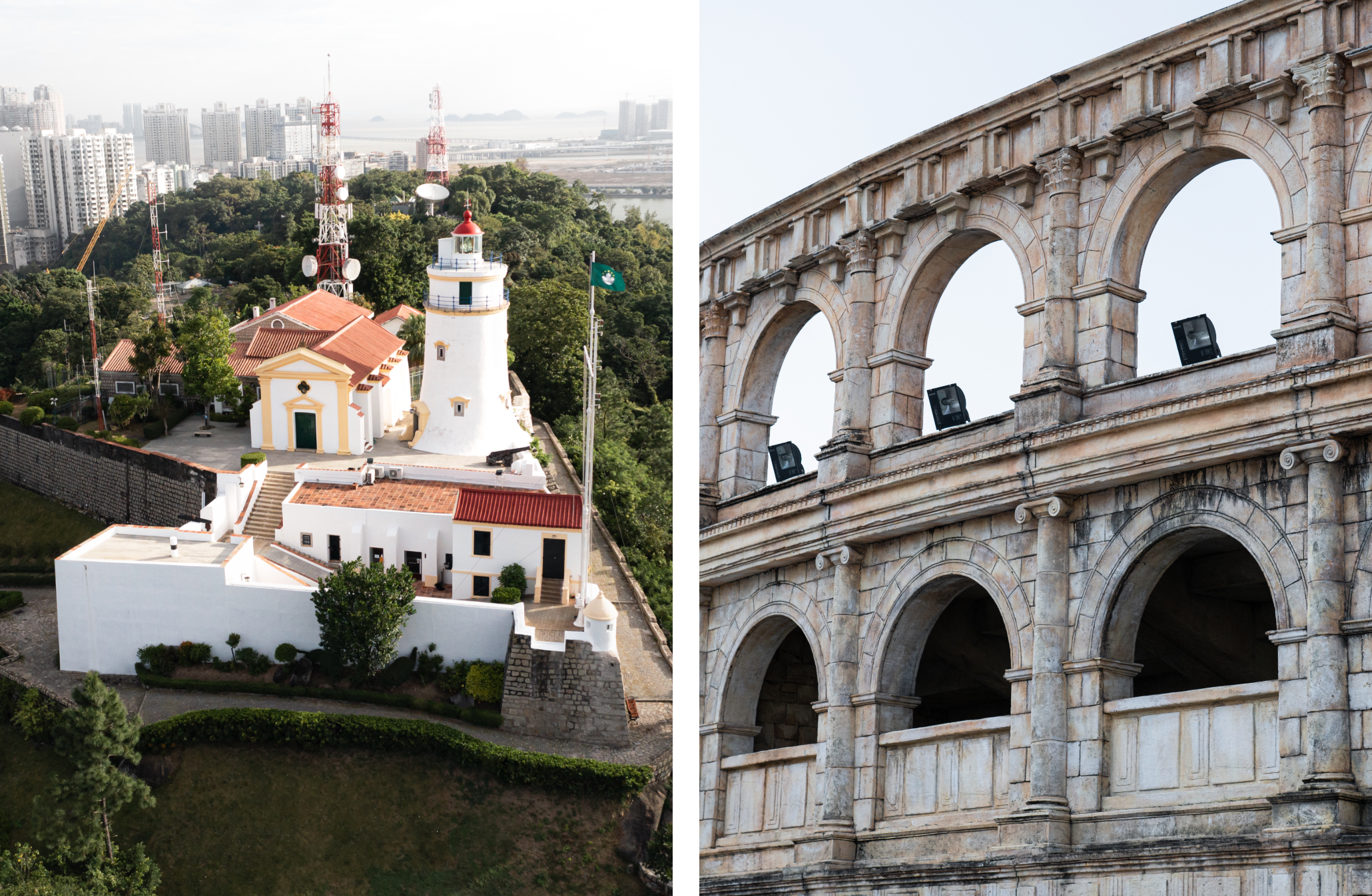 Macau's historical intersection of Portuguese and Pearl River Delta influences has given it a fascinating culture and built environment.
8 a.m. The historic and cultural heart of Macau lies in the historic center around the Ruins of Saint Paul's. We suggest getting there early to avoid the crowds. The city's best-known landmark, the remains of this 17th-century Catholic church is now part of a UNESCO World Heritage Site. The adjacent Monte Fort rewards with panoramic views across Macau, and the area's charming cobbled laneways are filled with shops and stalls that make for a delightful lazy stroll, perfect for picking up souvenirs.
11:30 a.m. Guia Fortress is another must-visit thanks to a combination of a 17th-century colonial military fort, a church, and a beautiful lighthouse. Photo ops abound, especially for Instagram lovers.
2 p.m. After a spot of lunch, step into another world at A-Ma Temple, which dates back to 1488. The peaceful harborside spot overlooks the South China Sea and commemorates the sea goddess Mazu, who is believed to protect fishermen. Remarkable 400-year-old rock carvings can be seen through a haze of incense.
4:30 p.m. Taipa Village also feels light years away from the busy, glitzy casinos thanks to Chinese temples and colonial-era churches. Macau's most famous egg tarts are also close by at Lord Stow's Bakery.
6:30 p.m. Finish your day by discovering Fisherman's Wharf, Macau's largest leisure and entertainment spot. From virtual reality gaming to luxury spas, dozens of dining options and boulevards to wander, there's something for everyone as you end the day in style.