Parisian panache since 1870!

September 02, 2021 to October 31, 2021
Save the date! A party like no other, celebrating 150(+1) years! It all started with Marie-Louise Jaÿ and Ernest Cognacq, the founding couple without whom this grand adventure would never have happened. To pay tribute to them and to mark the occasion, you are cordially invited to celebrate Samaritaine's artistic heritage.
On the weekend of September 4 and 5, marvel as a score of flamboyant performers (dancers, actors, contortionists and singers) take part in an indoor and outdoor parade on the Pont-Neuf and Rivoli sides of the department store. Full of life and color, the costumes in the parade are based on iconic Samaritaine figures and were designed in a specialist studio. Every weekend throughout September and October, the performers will return in pairs to celebrate this special anniversary with you. Prepare to be transported into a world brimming with pizzazz and pageantry.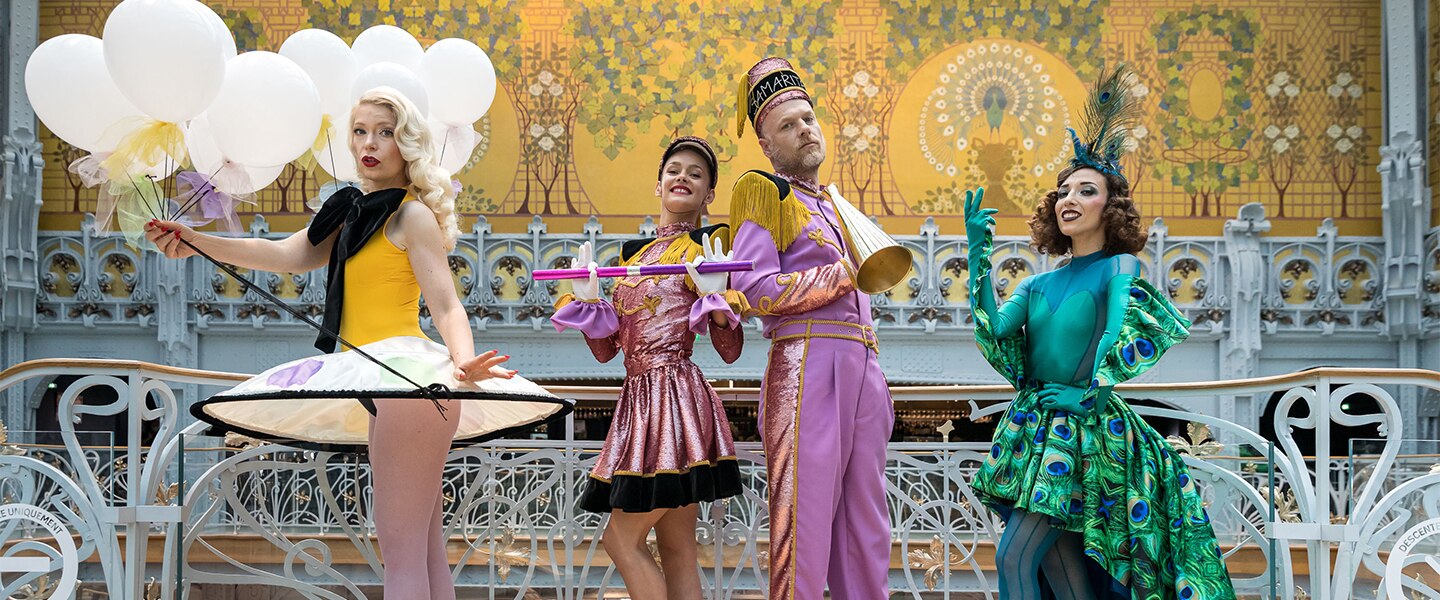 What's a birthday without a cake?
In honor of the occasion, talented creator Elsa Muse designed a staggering seven-tier cake that embodies the values of the store and recounts its history under the proud and watchful eyes of its founders. Inspired by the zoetrope technique (a precursor of modern cinema), the sugar characters are animated as the cake turns around, giving a taste of the sparkling celebration to come!
Every Saturday at 16:00, the official Samaritaine announcer will invite you to gather around the cake on display on the Rivoli ground floor, and will hand out 10 winning tickets to a lucky few from the crowd! These lucky winners can then visit Sweet Corner by Bogato to enjoy a slice of the birthday cake.
Every Friday, Saturday and Sunday in September, a cotton candy machine adorned with Samaritaine's birthday colors will be set up at the entrance to La Boutique de Loulou, as well as inside the store.


Finally, on October 1, 2 and 3, there will be a performer making balloons into original shapes, including an "S" for Samaritaine. Discover their creations in-store.
On the Pont-Neuf and Rivoli sides, the Samaritaine storefronts will also play their part in celebrating the occasion. Featuring not only innovative displays but also an exclusive collaboration using top-of-the-range products, they will help showcase everything the festivities have to offer!