ADD SOME SAMARITAINE SPARKLE TO YOUR CHRISTMAS

November 10, 2021 to December 31, 2021
Mark it in your diaries, the festive season is coming to Samaritaine!  

Samaritaine has plenty of surprises in store for its first-ever Christmas celebrations. What kinds of festivities are lined up? Spellbinding events, a cornucopia of wonderful prizes to be won and thousands of ideas to help you spoil your loved ones. 
A Giant Advent Calendar!

Enjoy the wait for Santa Claus like never before at Samaritaine. From December 1, there will be an extravagant advent calendar set beneath the department store's glass roof, with the chance for you to win amazing gifts each and every day. Be there at exactly 12:24 pm Monday through Sunday to find out what surprise is hidden behind that day's square! 
Discover more here
OMY Pop-Up

From November 10, you can find OMY at La Boutique de Loulou where it will unveil a groundbreaking new concept: the personalized illustrations counter. Be an artist for a day and create an avatar of yourself, your significant other or even your dog using the thousands of illustrations produced by the Paris-based design studio. All that's left to bring your creation to life is to print it on the medium of your choice.  
Discover more here
The Véronique Jacquart Workshop

This Christmas, give someone you love the gift of art with a personal touch! An illustrator in the world of fashion and luxury, Véronique Jacquart is putting her talented hands to work for Samaritaine as part of a unique new pop-up. Choose your favorite photo and Jacquart will sketch your portrait. Once complete, the design is printed on certified museum-grade fine art paper. Give an artistic gift that will tug at those heartstrings when the wrapping paper comes off. 
Discover more here
The Garden of Gifts

Looking for that perfect gift? Samaritaine welcomes shoppers to its fabulous garden, offering them the gift of magic beneath the Christmas tree. Wander through aisles adorned with Christmas tree designs and explore a collection of unique items created by the French artist Marin Montagut and brands Porcelaine Moderne, Rosa Cadaqués, Hello Lumio, Kinto and Valeria Vasi.  
Discover more here
Beauty 

Samaritaine's celebrations continue over at the Beauty section, with special offers, exclusive products, one-of-a-kind events and more! From November, Guerlain will be creating a buzz with a brand-new boutique, where you can uncover its creations and latest arrivals. And from December 3, all eyes are on Chanel for their turn in the spotlight in the Beauty section. To book your experience, head to where the brand is located or to Beauty on level -1.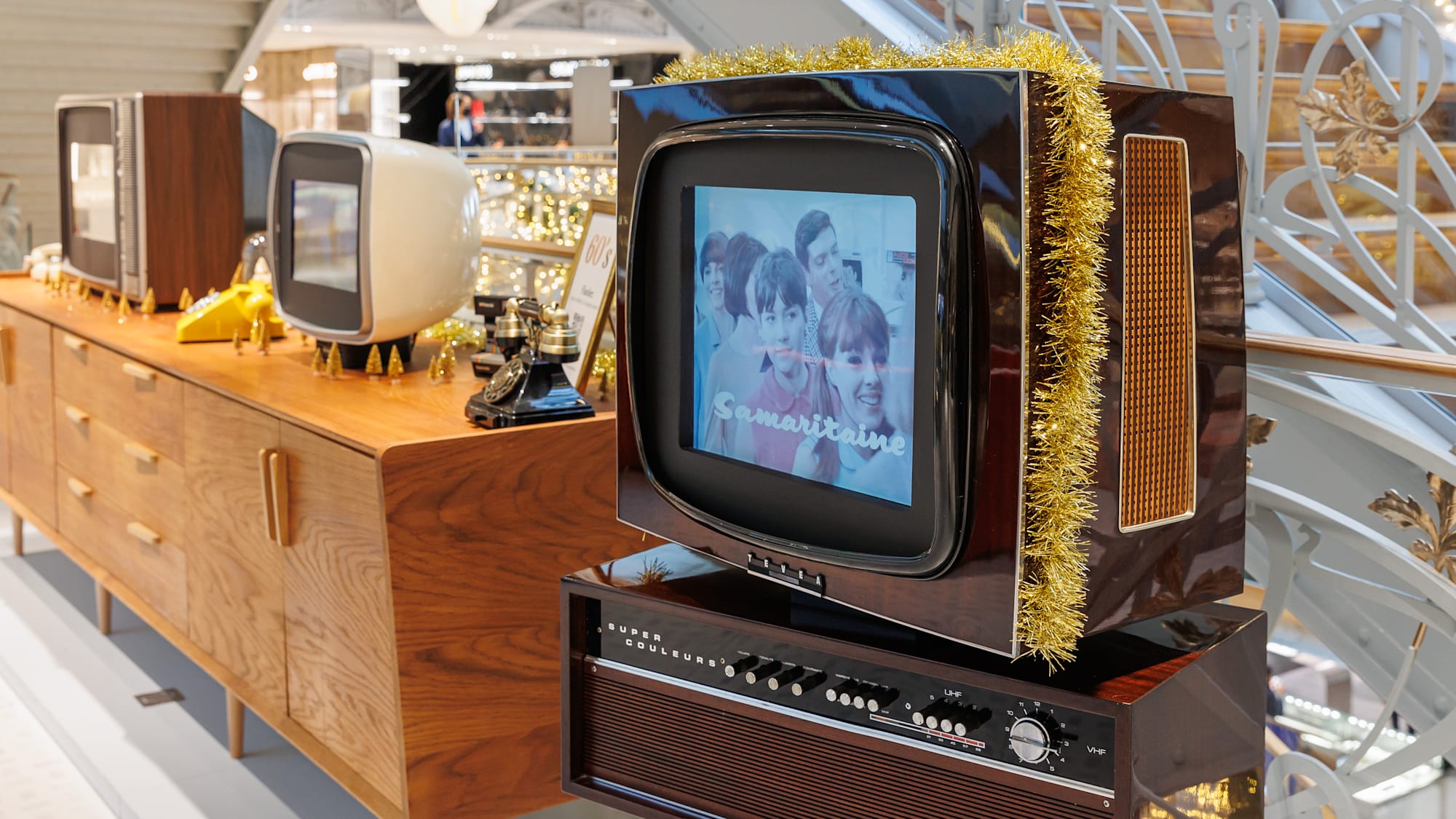 The best of Samaritaine ads

Ever dreamed of traveling back in time? As it so happens, Samaritaine is offering you the chance to chart its history with a look back on its most iconic and unconventional adverts. Head up to the 4th floor of the store to see for yourself.  
Maison Château Rouge Pop-Up

For the festive season, Maison Chateau Rouge is taking over Samaritaine to reveal the brand's own version of the department store. For two months, the Parisian label is setting up shop on the ground floor of the Rivoli building to showcase its exuberant world of color. In a space modeled on a mini-mart, the brand will display a selection of fashion, home and lifestyle pieces. The perfect way to spread the cheer this Christmas!
Discover more here