Our picks of everything you need for a great stay
Naha City is the capital of Okinawa, Japan's southernmost prefecture. For centuries it had been the crown jewel in an independent Ryukyu Kingdom, a vital trading and cultural hub in the west Pacific. In Okinawa, people and ideas mingled and fused: Thai rice was fermented and distilled to make liquor, Chinese martial arts merged with local fighting styles to create karate, and Hawaiian fashion became Okinawan business attire. This joyful blend is known in the Okinawan language as chanpuru ("something mixed"), after a local dish. Mixing the best of East and West, Naha City is filled with fascinating sights, fresh local delicacies, and island hospitality. Locals use the phrase ichariba chode, which means that once you meet, you're siblings. So relax and enjoy — you're now family.

UNIQUE SHOPPING EXPERIENCES
For a selection of international brands and local gifts head to T Galleria Okinawa by DFS, conveniently located next to the Omoromachi Monorail Station.
Looking for a sweet treat that's fit for a king? Check out Jahana Kippan, a traditional Okinawan sweet shop that produced delicacies for the royal court.

Shisa are the lion-like talismanic statues that are found alone on traditional tile roofs, and in pairs at the entrances to homes and even castles. Mitsuo Miyagi is an artisan who creates his shisa from sun-dried plaster. In his latest work, he integrates pieces of broken blackened tile from the Shuri Castle fire into special commemorative shisa.
Kokusai-dori, aka International Street, is the main shopping street in the center of Naha, and is pedestrianized on Sundays. Heiwa-dori and Ichiban-hondori are two covered shopping arcades that branch off from Kokusai-dori, and where locals search out bargains. Beside Ichiban-hondori, you'll find the Makishi Public Market, the local hub for fresh seafood, meat, and pickles.
Kariyushi shirts are the colorful Okinawan pieces that were inspired by Hawaiian aloha shirts. In Okinawa, these shirts are considered formal clothing in the warm summer months, so you'll see them worn by government workers, bank, and airport staff. Mango House is one of the most popular brands, with several stores on Kokusai-dori. Along with the classic shirts, there are dresses and even entire wedding ensembles.

At the Naha City Traditional Arts and Crafts Center in the Tenbusu Building on Kokusai-dori you can find a curated selection of Ryukyu glass, pottery, lacquerware, bingata dyeing, and weaving from respected artisans. It's perfect for one-stop shopping if you don't have time to visit individual workshops. You can also try your hand at crafting your own.

If you need a quick treat while shopping, stop by Blue Seal ice cream. The store's slogan "Born in America, Raised in Okinawa" emphasizes this merging of cultures. Locals love the beni-imo (purple sweet potato) soft serve, but the Shiiquasa Sherbet provides citrussy refreshment on a hot day.

MUST-SEE SIGHTS
Although the central Seiden — the distinctly local-style main hall — of Shuri Castle was destroyed by fire in October 2019, the outer buildings and stone walls of this fascinating World Heritage Site still stand. Shureimon is an impressive gateway, and is featured on the Japanese 2,000 yen bill.
The Okinawa Prefectural Museum & Art Museum is a great place to learn about the rich history of the Ryukyu Islands, and discover many of the archipelago's local crafts and artists.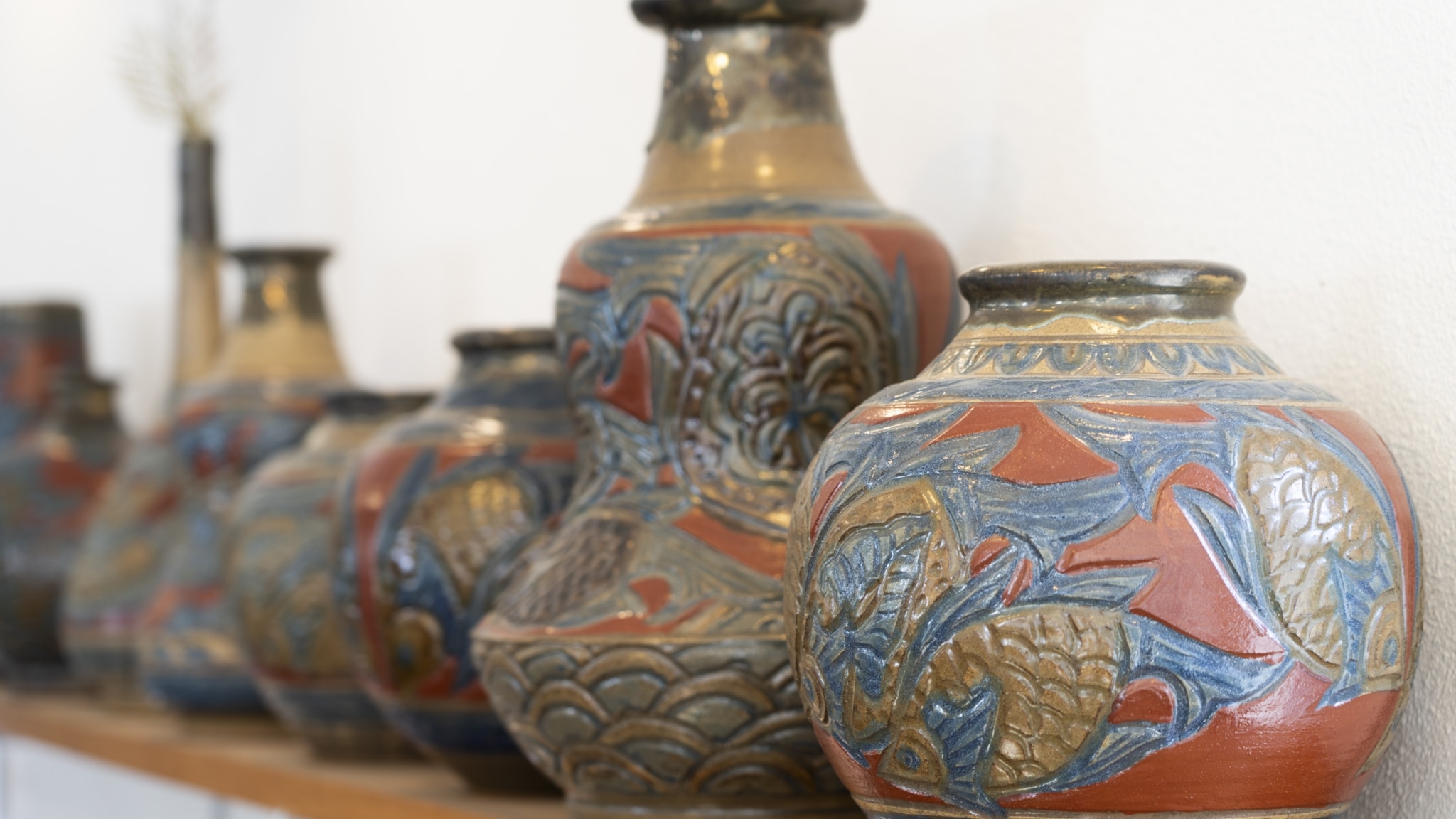 Tsuboya is Naha City's pottery district, whose artisans created the plates, bowls, and cups for global leaders at the 2000 G8 Summit in Okinawa. Some workshops give you the opportunity to create your own pieces.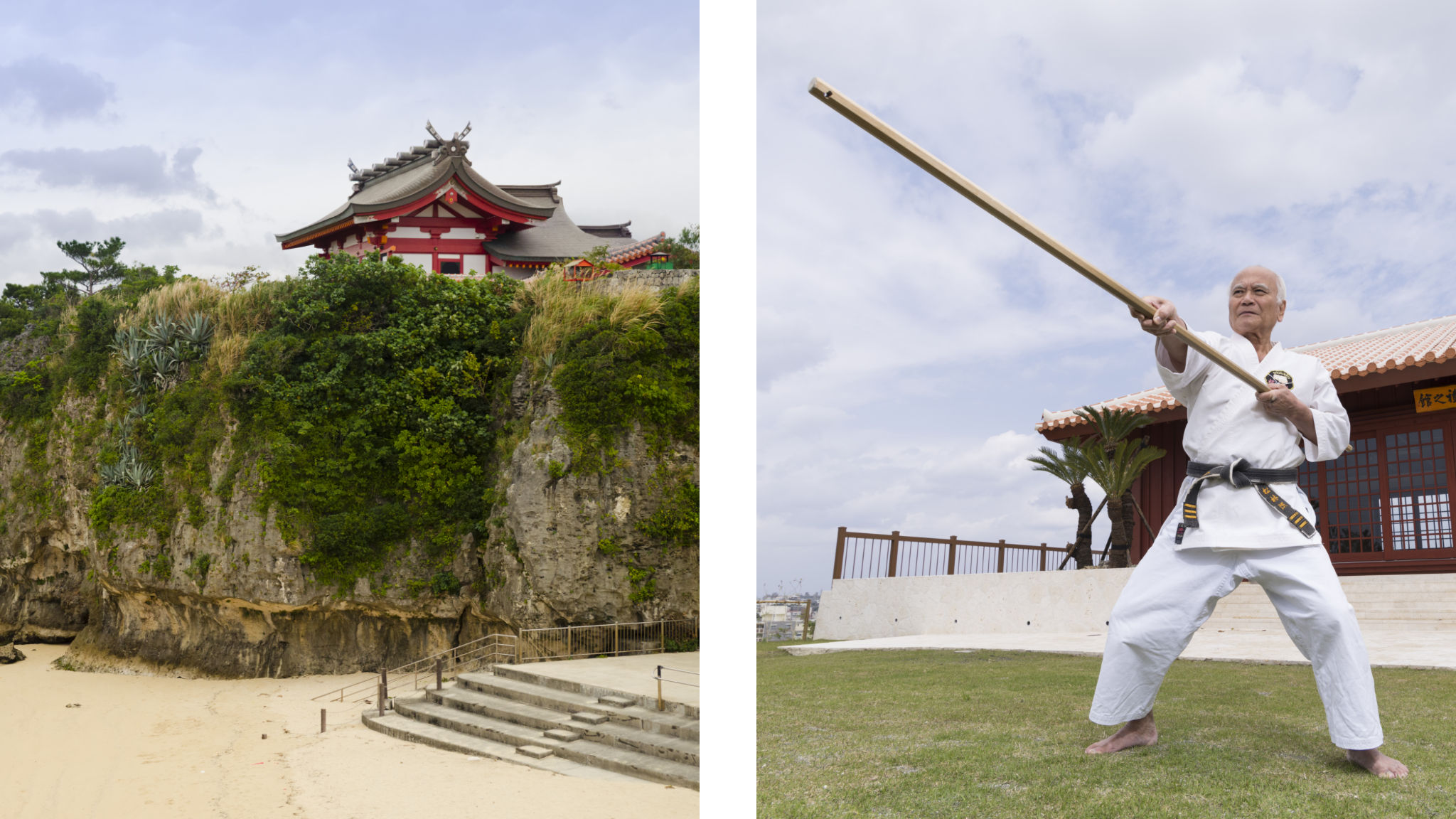 Naminoue Shrine is a charming Shinto clifftop shrine overlooking Naminoue Beach. The beach is a good option if you're limited for time and can't get to those further from the city center.

Okinawa is also the birthplace of karate. Fans of martial arts or karate's many film adaptations should visit the Karate Kaikan, a new training complex that includes a martial arts museum and a soba cafe.

GOURMET DELIGHTS
Okinawa Dining Hateruma bases its menu on dishes from Hateruma, the prefecture's most southern island. Enjoy performances of Okinawan folk songs in the evenings.

Ukishima Garden is a vegetarian, organic restaurant that follows the farm-to- table approach using the island's freshest seasonal vegetables.

At Makishi Public Market you purchase your fresh seafood on the first floor, then pay a small charge for it to be cooked and served to you in the second-floor dining area.

Urizun prepares traditional Okinawan dishes including assorted sashimi, and the delicious umibudou sea grapes.

Sui Dunchi is set in a beautiful garden along the Kinjo Stone Road to Shuri Castle, and serves traditional dishes and fine awamori in a serene atmosphere.

Okinawa's drive-in A&W restaurants are another example of Okinawan hybrid culture. The menu of this American fast-food chain has items unique to Japan including the Teriyaki Burger and the meat-free Zen Burger.

LUXE STAYS

Naha City has a great selection of accommodation options that can serve as a base for exploring Okinawa Main Island.

The Loisir Hotel has fantastic harbor views, plus convenient access to the international airport and the ferry port.

Situated on Kokusai Street, Hotel Collective provides visitors with stylish luxury, and immediate access to the bustle of the city center.
Beside the cobbled streets of the Tsuboya pottery district is the elegant Hyatt Regency Naha, Okinawa. In the evenings, relax at their tasteful 18th-floor rooftop bar.
And a little outside of the city center, but within walking distance of the iconic Shuri Castle, is the DoubleTree by Hilton Hotel Naha Shuri Castle.

We recommend checking websites before visiting, as some venues may be impacted by the COVID-19 pandemic.